Jane Carter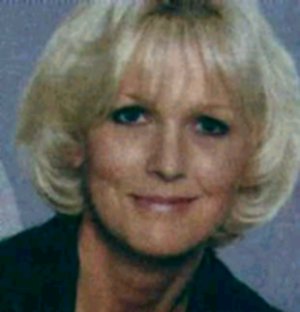 Jane Elizabeth Spaulding Carter (Mom)
Full Name: Jane E. Spaulding Carter
Nicknames: J.C, Mom, Mommy
Birthday: March 9, 1959
Age: 42 years-young. :)
Birthplace: Brawley, California, USA
Hair: Currently DYED strawberry blonde, but is naturally brown, and goes back and forth from DYING it black, and blonde.
Eyes: Blue
Height: About 5'9
Parents: Dad: Douglas Spaulding, Mom: Helen Jean Neal
Siblings: Scott Spaulding, Stephen Neal Spaulding, John Spaulding
Husband: Robert [Bob] Carter
Wedding Anniversary: May 13. (Married in 1979)
Children: Sons: Nick Gene (22), Aaron Charles (15), Daughters: Bobbie Jean (20), Leslie Barbara (16), Angel Charissma (15)

*Favorites*
Backstreet Boys song: "Quit Playin' Games (With My Heart)"
Aaron Carter song: "Tell Me What You Want"
*Other Facts* Jane and Bob's Anniversary is May 13, and for their 20th Anniversary in 1999, they celebrated in Mexico.
In 2001, it worked out that Mother's Day and her 22nd Anniversary landed on the same day.
When Aaron got his left ear pierced in March 2000 [was removed in June 2000 because of infection], Jane said it was just a phase Aaron was going through, but thought the earring looked cute.
Aaron was born on "Pearl Harbor Day," and every time he is bad, Jane calls him her 'little bomb.'
Jane tried to ride a four-wheeler once and fell over in the desert.
Jane didn't want Aaron to cut his hair.
Jane has AOL.
Jane's parents divorced when she was very young.
Jane has her own management, Spectra.
Jane manages Aaron and Leslie's career.
For the most part, Jane tours with son Aaron.
Jane broke a record at the Tampa General Hospital for giving birth to the largest set of twins ever born there. That record has since been broken.
Jane was a basketball player in high school, and Aaron claims she could do hand-springs.
Jane wrote two touching books on her sons, one on Nick called "The Heart & Soul Of Nick Carter," and the other on Aaron called "Aaron Carter: The Little Prince Of Pop."